If you are a vegan or are considering becoming one, sometimes having a book or two on the subject can help immensely (it's so easy to feel lost amidst the (sometimes contradictory) stream of information provided on the
Internet, however useful it may be). Here are a few books that may help you out:
1) Becoming Vegan
by Brenda Davis, R.D., and Vesanto Melina, R.D.
I have this book at home, and it's really cool. It contains loads of information on how to get enough of various vitamins, minerals, fats, etc. It's been quite useful for me; if you're the sort of person who likes to make sure you're having a healthy diet by going in-depth about it, this book is for you!
2) The Compassionate Cook
by PETA and Ingrid Newkirk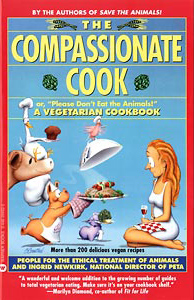 It's a cookbook! I took it out from the library and
I have it with me right now as I write. It contains easy, simple, everyday recipes that make going vegan look a lot less daunting than many more complicated cookbooks. There's nothing too fancy in here: the recipe for Curried Chickpea Pita Pockets takes up one small page, and the recipe for Sweet Potato Puffs takes up one-half of a page. There's a recipe for pancakes, one for pasta salad, and one for yellow cake, as well as recipes for Simply Delicious Vegetable Fried Rice, Three Bean Pasta with Creamy Spinach Sauce, and Tofu Sweet Potato Pie. Some of the recipes are a little too plain, but many of them are great and this can be a relief for people who don't want to spend a lot of time on their diet.
3)
Vegan's Daily Companion: 365 Days of Inspiration for Cooking, Eating, and Living Compassionately
by Colleen Patrick Boudreau
The title of this book says it all! I haven't read it, but it looks like a good one to read-- something that would really keep you motivated, you know?
4)
Vegan for Life
by Jack Norris, R.D. and Virginia Messina, R.D.
This book looks similar to
Becoming Vegan
(see above). I have to say, I love the title of this book! It's a statement of turning theory into practice, philosophy into morality, and ideas into will power. It's an insistence that veganism can be healthy and can sustain you throughout your life. It's a declaration of morality and vitality. You should probably read either
Becoming Vegan
or this book, since books on nutrition can really help you understand how to eat healthily.
5) You decide! What other books do you consider great for vegans to read? Post them in the comment section below!
Keep in mind that the best places to get these books is at the library, if you can. That way, trees won't have to die to provide you with your book! (Since we're vegans, though, we're allowed to buy a few books now and then-- trees aren't animals. Still, it's best to avoid killing living things in general as much as you can.) If you can't get it at your local library, then at the very least share your book with others or pass it on to someone else when you're done with it. You can also try to find your book second-hand off Amazon.com.
A lack of information is what stops many people from going vegan or staying vegan. Don't let that stop you or your friends and family!